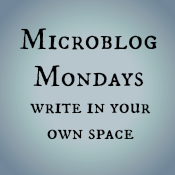 Want to know more about Microblog Mondays?
Go here
.
My cousin is getting married in British Columbia in June, and I really want to go to the wedding. Unfortunately, Keegan has a prior commitment, so it will just be Kieran and myself with any other members of my family that decide to go. The current plan is for us to drive up to St. Louis so that I can meet up with my mom and have some help during the flight (flights out of St. Louis are also $300 cheaper than flying out of Memphis!)
I have obviously never flown with a baby, so I am clueless about everything. My biggest questions are about car seats and food. I've heard some parents decide to check their car seats while some decide to buy their baby a ticket and have them sit in their car seats next to them during the flight. I've also just recently read that some car rental places rent our car seats as well, so we wouldn't have to bother bringing one on the flight.
As for food, I'm assuming security is ok with parents bringing formula and baby food as long as it's packaged and hasn't been opened, right? We would only be gone for a weekend, so I would probably purchase the pre-portioned packets of formula for convince.
Don't even get me started on the fact that we're going to have to get Kieran a passport.
The more I think about it, the more overwhelmed I get, but I rarely see my extended family, so it's important to me that I try and be there.
If anyone has any travel tips and advice for flying with a baby, I'm all ears!